Sleep is an essential part of life, and our mattresses are the core reasons for having a good night. We spend about a third of our lives on our mattresses, and whether that time is spent fitfully tossing and turning, or blissfully slumbering, depends greatly on the comfort of your mattress.
So how do you pick the perfect mattress? There are a myriad of choices out there with different materials, firmness, and sizes. A mattress is so personal that each person's perfection can be someone else's aches and pains.
Latex Mattress vs Memory Foam
Let's look firstly, at the main differences between latex mattresses and memory foam.
Natural latex is a superior material to memory foam, made of high quality 100% organic ingredients from rubber trees. They avoid the harsh chemicals needed for the production and maintenance of memory foam mattresses.
Eco-Friendly
These eco-friendly mattresses are not only good for the environment, but are made to meet the highest GOLS (Global Organic Latex Standards) certification standards. GOLS only ever certifies latex that comes from sustainable and eco-friendly growth practices. 
Be careful though! Many mattresses claiming to be natural latex can be synthetic latex or hybrids, so looking for the GOLS certification is definitely a good idea. We'll get more into that later on in this article. 
Breathable
Unlike traditional foam mattresses, natural latex has an open-cell structure, effectively permitting constant airflow. This makes the mattress perfect for those that like to sleep cool. In addition, chemicals in synthetic mattresses also cause heat retention, and natural latex contains little to no chemicals. 
When you look at a latex mattress' core, you'll see tiny holes or some perforations. This is normal, and these perforations are added in the manufacturing process so that while baking it, the heat flow through the latex is kept consistent. This results in a mattress that feels far cooler than a foam mattress!
Comfort
Memory foam also has a slower rebound rate, which is the rate at which the mattress returns to its natural state. Rebound rates on latex mattresses are almost immediate. People who dislike sinking and "stuck" feeling of memory foam tend to love the firmness and enhanced support of latex mattresses. 
Many mattresses reviewers have noted how well a latex mattress gives support to the body during sleep. And while keeping your spine in proper alignment, pressure is relieved whether you sleep on your back, side or stomach. No more morning aches and pains! 
However, if your preference is to sink into a bed and have it conform to your body's contours, foam might be more up your alley.
Hypoallergenic
Mattresses are breeding grounds for microscopic organisms such as bacteria, fungi and dust mites. Mold, mildew and dust mites that can collect in the interior are one of the leading causes of allergic reactions in people. 
3 out of 4 people who suffer from allergies report their allergies coming from their bedroom. Dust mites are one of the leading causes of bedroom allergies. These microscopic bugs live in our bedding, mattresses, pillows and carpets. Up to 2,500 mites can be found on a single gram of dust, and any used mattress can have up to 10 million dust mites in it! Eeew. 
Latex is naturally antimicrobial, repelling harmful organisms and making it an excellent choice for people with sensitive skin and allergies. 
Durability
Natural latex mattresses have an average lifespan of 12-20 years, significantly longer than foam mattresses that have to be replaced every few years. Rubber is a durable, resilient material that naturally rebounds, maintaining its original shape over many years of use. You won't have to flip the mattress as much as foam mattresses and still it will stay comfortable for several months.
Less Movement
That feeling of getting woken up by your partner tossing and turning, or getting out of bed is all-too-familiar to a lot of us. Because of the supportiveness of latex, your sleep will be less interrupted as when one person moves on the bed, the other doesn't wake! 
Flame Resistant
All mattresses have to comply with each country's flame retardant laws before they can be sold. This leads to harsh flame retardant chemicals being added to the manufacturing process of each mattress. Not quite what you'd want to sleep on! 
Latex is naturally fire resistant. Wool and cotton can also be used as natural flame retardants. You can sleep on a completely 100% organic mattress without the toxic chemicals! 
Edge Support
Foam mattresses conforming nature means most mattresses give way to body weight when you're sitting on the edge. Some firm up by wrapping the perimeter with stiffer material.
Some latex mattress manufacturers will add having perimeter support as one of their benefits. With a high quality natural latex mattress, you shouldn't need perimeter support. That means that another type of material, sometimes a dense, cheap foam, is used around the edge to firm up the edges. A high-quality natural latex mattress should never be touting "perimeter support". 
Cost
Latex mattresses generally cost more than foam mattresses, due to the labour intensive harvesting of natural materials and manufacturing according to strict standards. 
Remember to factor in the increased durability of latex and the cost of replacing foam mattresses more regularly. You'll have to decide this one for yourself! 
So, What Is Latex?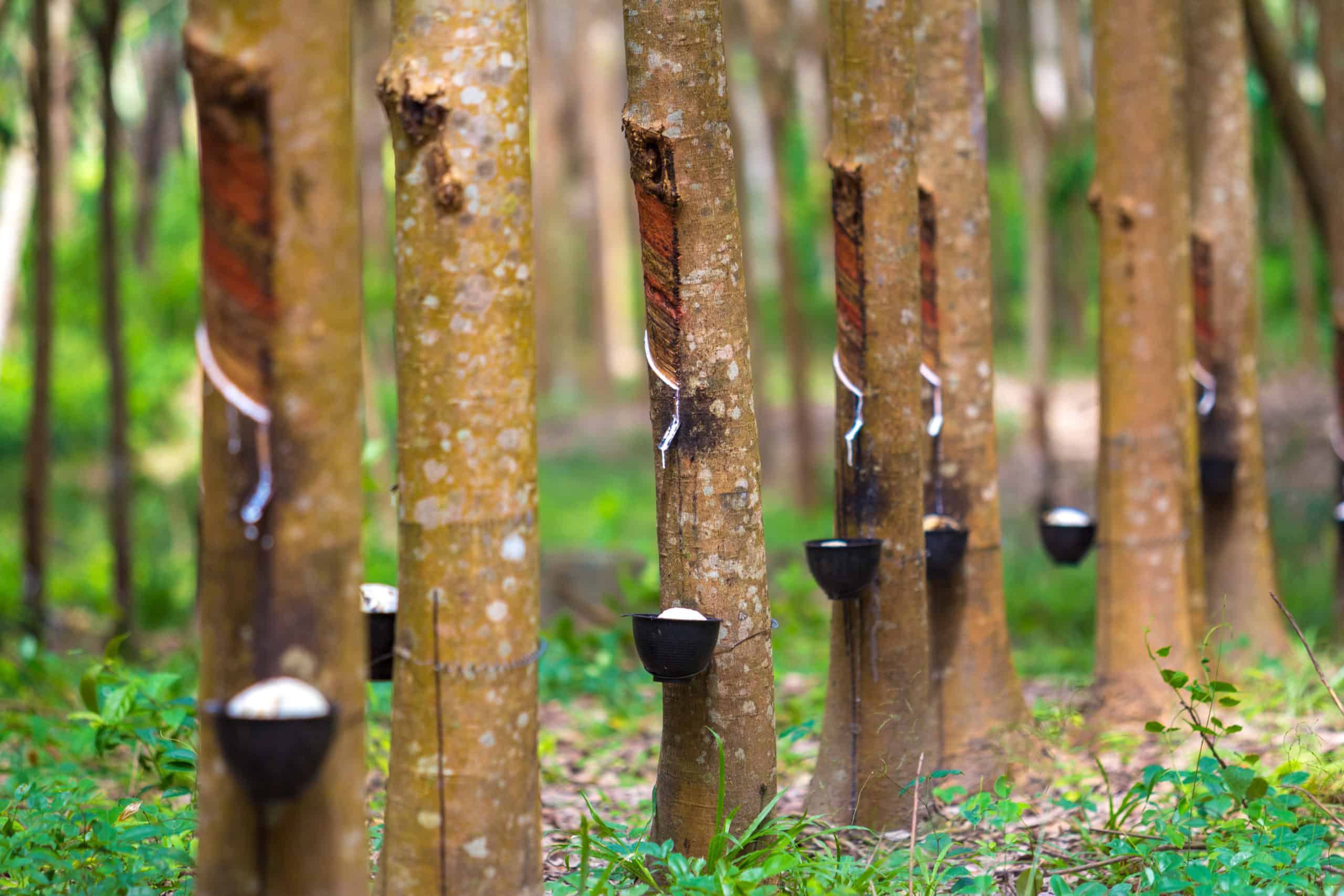 Latex is produced from the sap of the rubber tree, or "hevea brasiliensis" for the botanically-inclined. Originally found native to Brazil, seeds were collected and then shipped worldwide in the early 1900s. 
A rubber tree starts producing sap after 7 years and can produce around 9kg of latex a year. Each tree can continue to produce latex for up to 25 years, all while contributing to reducing our carbon footprint and delivering oxygen to the environment!
Rubber trees are hardy and easily grow without the use of toxic pesticides and herbicides. With fewer chemicals used in the rubber plantations, latex production results in minimal pollution that could disrupt the surrounding environment and ecosystems. 
Latex has come a long way, and now are found in a multitude of products worldwide. Common uses of latex include shoes, medical gloves, swim caps and contraceptive products. The naturally antimicrobial material makes it a safe choice for direct and constant contact with skin. 
Prominent latex-producing countries now include Malaysia, Thailand, Indonesia, Cameroon, Vietnam and India. 
Buyer Beware! 
The popularity of latex mattresses continues to grow because of all the health and sleep benefits. More retailers are adding latex mattresses to their product ranges, but not all latex mattresses are made the same. Some are hybrids of natural and synthetic latex while some are fully synthetic. 
Synthetic latex is made from two petroleum-based compounds, styrene and butadiene. Styrene is a toxic chemical that can cause: 
Effects on the central nervous system (CNS)

Headache, fatigue, weakness, and depression

Hearing loss

Peripheral neuropathy

An increased risk of leukemia and lymphoma.
Butadiene isn't very much better. It can affect the central nervous system, irritate skin and eyes, and contribute to causing cancer. 
Unfortunately, synthetic latex is way cheaper to manufacture than natural latex. It would be easy for unscrupulous mattress manufacturers to mix synthetic latex with natural latex and market the hybrid as "natural latex" at an increased cost to the buyer. Yikes!
Chemical Flame Retardants
As previously mentioned, each mattress has to pass each country's flame retardant standards before they can be sold. Organic materials such as cotton and wool can be used as natural flame retardants, but are more expensive to manufacture and produce. 
This leads to the common use of Antimony, Boric Acid and Halogenated Flame Retardants (HFRs).
Antimony is a toxic heavy metal that can cause eye, heart and lung complications.
Boric acid, also known as Borate Powder, has been linked to eye and respiratory irritation.
HFRs are the worst of the bunch, linking to severe problems that can span multiple generations such as:
Delaying puberty

Delaying reproductive development 

Causing neurobehavioral changes

Disrupting thyroid hormones

Harming sperm production and development

Cancer
These commonly used chemicals cannot fully bind to the core materials of your mattress and are released over time into your bedroom, where you live and breathe!
Gosh That's Scary. What Do I Do?
Easy fix! Be sure to look for both the GOLS and the GOTS certifications when shopping for your mattress.
GOLS stands for Global Organic Latex Standard and is a certificate that specifically focuses on latex products. Attaining a GOLS certification not only ensures that the farming and manufacturing process was evaluated, but also that the raw materials are certified organic. 
To achieve GOLS certification, a product must contain more than 95% of certified organic raw material. Each mattress must also be tested for permissible limits for harmful substances, emission test requirements, polymer and filler percentages. Rubber plantations as well as the final products must be certified according to the standard. 
GOTS stands for Global Organic Textile Standard and applies to materials such as cotton and wool. It is the worldwide textile processing standard that includes ecological and social criterias and backed up by independent certification of the entire textile supply chain. 
The aim of the standard is to ensure the certified organic status of textiles from the raw fibres, to environmentally and socially responsible manufacturing, and even includes post-manufacturing labelling to ensure honesty to the end consumer. 
Getting a GOLS and GOTS certified mattress ensures that you will be getting a mattress of the highest quality with close to 100% organic materials that were manufactured in an environmentally and socially responsible process. 
The Una Mattress
We have been making mattresses with natural materials for over 30 years with a dream of helping people sleep organic and healthy. And the best thing is, all for about half the price of similar high-quality organic mattresses!
How do we manage to keep the price so low you might want to ask?
It was one of our goals to be able to offer a more affordable option for organic mattresses which can be significantly more expensive than lower-quality foam mattresses. We worked on building direct relationships with the organic plantations in India who are experts in making organic latex and cotton.
This made it possible to skip the middlemen. We also sell exclusively online, keeping our costs low. Those cost savings are passed directly to our customers. Yay! 
Almost all foam mattresses are made from fossil fuel synthetic foams and that comes with a huge carbon footprint. Una's products are carbon negative and climate friendly. The trees that our sap comes from remove more carbon each year than what is needed to make and deliver the mattresses. In addition, we donate regularly to rewilding and reforestation initiatives like treesisters.org.
We are also Control Union Fair & Social Choice certified. This means we are guaranteeing commitment to sustainable development and improvement of social conditions. We have to demonstrate compliance with the criteria listed in the standard and are audited regularly based on the following principles.
Social –  compliance with ILO conventions and national legislation.

Environmental  – natural resources, water, waste and biodiversity management.

Fair Trade and management systems (optional).

Economic – transparency.
As for our mattresses, we understood that each person's preference is different, and there's no one size fits all answer. So we developed the design and technology of having several layers of 7 different comfort zones that can be soft, medium or hard. 
There are 6 firmness variations on each sleeper's side, which means you can switch up and fully customize the firmness at any time by simply rearranging the internal individual latex layers, which is simple and fast. 
And of course, our mattress covers are 70% organic cotton and 30% organic wool and can totally be spot cleaned with mild soap and water. 
We also wanted to make trying our mattresses easy. You can buy an Una Mattress™ online and try it for 100 nights for free! We'll deliver it and guarantee a 100% money-back guarantee. Oh, and a 10-year warranty.
Picking Your Latex Mattress
Now you're an expert in latex mattresses, it might be time for a shopping trip! Yay! The perfect mattress could be out there waiting for you. Good luck!